US moves up two places on the Quality of Nationality Index
Kochenov Quality of Nationality Index (QNI)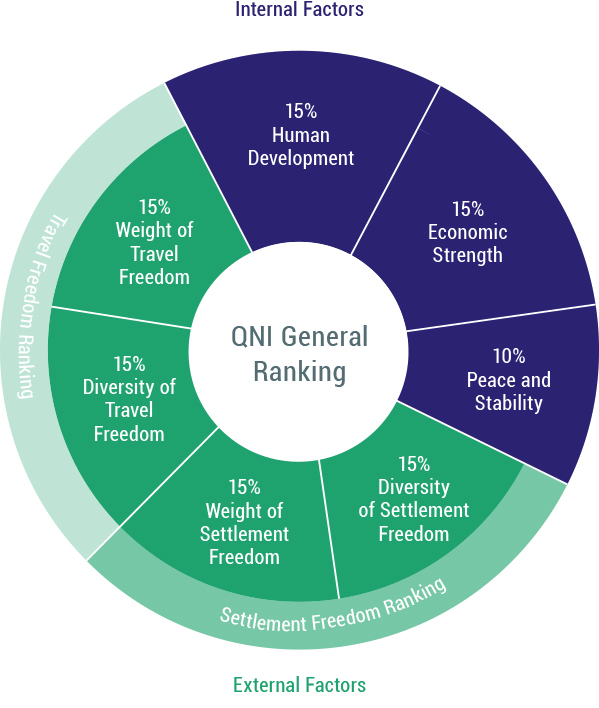 Prof. Dr Dimitry Kochenov, a leading constitutional and citizenship law professor and co-creator of the Index, says the key premise of the QNI is that it is possible to compare the relative worth of nationalities as opposed to simply that of states. "In today's globalised world, the legal status of millions of nationals extends their opportunities and desires far beyond their countries of origin: the confines of the state are simply not the limit of their ambitions and expectations. Using a sophisticated combination of quantifiable data derived from leading international institutions and experts, including the United Nations, the World Bank, and the International Air Transport Association, the QNI measures the internal value of nationality, which refers to the quality of life and opportunities for personal growth within our country of origin, as well as the external value of nationality, which identifies the diversity and quality of opportunities that our nationality allows us to pursue outside our country of origin."
According to Prof. Kochenov, the QNI's combined methodology produces a clear and objective account of what our nationalities can do for us within the borders of our home country and of where they can take us abroad. The Index's findings have important and far-reaching implications: "Firstly, the QNI proves that one cannot possibly be correct in stating that all nationalities and passports are equally good. Some nationalities are radically better than others: being born French gives one a huge advantage over the liability brought about by a Somalian nationality, for example. With the QNI, illustrating this discrepancy becomes simple.
"Secondly, the QNI proves that it is not true that the most prosperous and economically important countries endow their citizens with the best nationalities: while China is an economic giant, its nationality has a very modest objective value, and while Liechtenstein has a micro-economy compared to that of China, its nationality is world-leading. Some nationalities are great, while others are quite simply terrible. Now, we can see which is which."
The broad spectrum of global nationality 
Dr Christian H. Kälin, co-creator of the QNI and Group Chairman of Henley & Partners, says the Index is highly relevant to individuals interested in understanding the circumstances associated with their nationality, as well as to governments looking to improve the local, regional, and global reach of the nationalities they provide.
"It is clear that our nationalities have a direct impact on our opportunities and on our freedom to travel, do business, and live longer, healthier, and more rewarding lives," Kälin says. "The reality that the QNI describes is, in many respects, regrettable: in the majority of circumstances, our nationality plays an important role in establishing a highly irrational ceiling for our opportunities and aspirations. An exception to the rule is the expansive freedom of movement and settlement enjoyed by nationals of France, the Netherlands, and Finland, among others. These are the most globally integrated citizenships in the world, turning the national borders of roughly one-quarter of the world's states into myths for their holders and liberating their citizens from imaginary geographical limitations. For the many individuals who do not automatically enjoy such boundless levels of access and mobility, residence and citizenship programs provide an alternative path to freedom. The appeal of this option is growing each year."
Kälin adds that governments are increasingly embracing residence- and citizenship-by-investment as a means of stimulating economic development and growth. In addition, more and more wealthy and talented individuals are seeking to diversify their citizenship portfolios to give themselves and their families greater international opportunity and security. "Alternative citizenship represents the most direct route to global mobility, connectivity, and access. The QNI is the most indispensable reference tool and resource when selecting the most valuable second or third nationality to acquire."
Key findings of the 3rd edition 
The French nationality stands at the top of the QNI General Ranking, with a score of 81.7%, while the Somalian nationality lies at the bottom, with 13.4%.
The global mean this year was 39.28%, an incremental decrease from last year's average of 39.32%.
In 13

th

place, the UK narrowly misses the top 10 but still makes it into the Extremely High Quality tier, with a score of 78.2%.
The US has again managed to secure a spot in the Very High Quality tier, and it increased its position by two ranks, claiming 27

th

place and scoring 69.4%.
26 nationalities fall in the Extremely High Quality tier (75.00% and above); 23 nationalities fall in the Very High Quality tier (between 50.00% and 74.99%); 50 nationalities fall in the High Quality tier (between 35.00% and 49.99%); 96 nationalities fall in the Medium Quality tier (between 20.00% and 34.99%); and 14 nationalities fall in the Low Quality tier (below 19.99%).
Malta and Latvia moved down from Extremely High Quality to Very High Quality; Andorra moved down from High Quality to Very High Quality; Ukraine and Georgia moved up from Medium Quality to High Quality; Qatar moved down from High Quality to Medium Quality; and Djibouti moved up from Low Quality to Medium Quality.